Unlike previous years, this Ramadhan, the people of Peshawar city are missing the interfaith harmonious acts of serving 'Iftar' meals to their fellow Muslim citizens of Peshawar by members of the Sikh community.
The holy month of Ramadhan which is celebrated with great enthusiasm by Muslims not only in Peshawar but in every part of world gives message of kindness, steadfastness and bringing ease for others. This generosity inspired the Sikh community who now distribute Iftari meals to the their fellow Muslims in Peshawar. This tradition is coming along for many years despite of the dark era of terrorism in the region, threats from religious extremist organizations and even the unfortunate murder of the co-founder of the trust, Sardar Charanjit Singh.
Offering Iftar meals to Muslim brothers is an old tradition among Sikhs in Peshawar
Every year since 2009, the Sikh community of Peshawar feed hundreds of Muslims across different parts of the city during the holy month of Ramadhan.
With the help of several organizations as well as members of the Christian community, the Sikhs of Peshawar hold Iftar parties and provide eateries and drinks to Muslims. This act of kindness is a perfect example of interfaith harmony and a trailblazer for promoting more love and kindness among all the citizens, regardless of their faiths.
No Iftar meals this year
As the novel Coronavirus takes the world by storm, it affected many aspects of our social life. Given the fact that social gatherings are to be avoided in order to contain the spread of the virus, the Sikh community is following the SOPs given by the government and decided not to organize 'dastarkhwans' for their fellow Muslims during this Ramadhan. The traditional 'dastarkhwans' organized by Sikhs in Peshawar was a source of food for Iftari to hundreds of labors, shopkeepers, rickshaw and taxi drivers and the poor common man. But unfortunately, they are missing out the meals this year due to the global pandemic.
Source: Arab News Pk
A global pandemic, however, did not stop Sikh citizens from providing welfare services to the community and keeping up with their efforts to to prevail interfaith harmony and communal love. Instead of organizing Iftari dastarkhwans this year, they are delivering rations and packets of food, beverages and other household items to the Muslims residing in different rural areas and in the down towns of Peshawar city.
They along with the personals of Pakistan Army and Khyber Pakhtunkhwa Police distributed hundreds of bags inside the Walled City, supplying food and other necessary resources for Ramadhan.
"In every religion there is love, yet love has no religion."

~Mawlana Jalal ad-Din Muhammad Rumi
In an interview to the local newspaper, Baba Gurpal Singh, a leader of the local Sikh community, mentioned that are not able to offer Iftari dastarkhwans this time because of social distancing and the countrywide lockdown due to the Coronavirus pandemic. But they are, however, delivering food rations with the assistance of several local charity organizations to the people who are not able to get any proper food supplies for Ramadhan this year. Gurpal Singh says their struggle of spreading love and sustaining peace shall continue and they aim to serve the mankind regardless of any religious boundaries.
He also pointed towards the unfortunate incident of assassination of Sardar Charanjit Singh who was killed last year. Charanjit Singh was an avid peace activist who played a vital role in setting up roadside Iftar dastarkhwans for unprivileged Muslims during Ramzan. His iftaars had become a pleasant news for peace activists around the country and his efforts for harmony were greatly admired. He was a key figure in establishment of Pakistan Council of World Religions in 2006.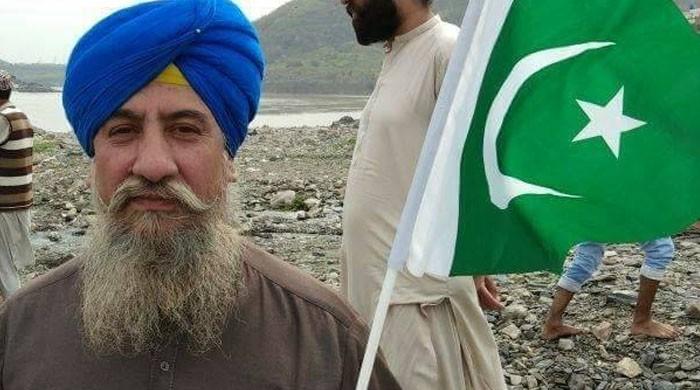 Charanjit Singh, like some others in his community, had migrated to the provincial capital in the early 1970's for business.
"In 1975, there were only four Sikh families in Peshawar. Charanjit's family was one of them," said Sikh elder Baba Amarjit Singh while speaking to The Express Tribune.
He added that Charanjit hailed from the scenic Sadda region of Kurram Agency and moved to Peshawar owing to better business prospects. In turn, he blazed a trail for others of his community to follow.
Sikh men serving milk to fasting Muslims in Peshawar. (Photo via Independent)
The Sikh community of Peshawar has actively contributed to the society and took their part in serving the people of Peshawar during the hardest of times. No doubt all these actions are a positive sign from the side of Sikh community of Peshawar because the members of it had forgot the past that whatever were happened between them and the locals of this region.
All these kind, peace-loving, and tranquilized actions of Sikh citizens of Peshawar towards their Muslim fellows since a period of many years have proved that religious tolerance and a sense of coexistence still exists among the citizens of this city. And despite all the hatred that excessively spread on the basis of difference of religion, faith and social beliefs, there are still people out there who are joining hands to break barriers and look out for each other regardless of any religious differences. It's steps like these which paves the way to prevailing interfaith harmony and re-conciliation between Muslims and the Sikh community.
While the Sikhs are doing their part in maintaining a sustainable position of 'positive peace' (a term used in Peace studies for complete peace between two groups with having no hatred and indirect violence), it's about time we Muslim should pay back too.
Despite living in Peshawar and other citires of Khyber Pakhtunkhwa, the Sikh community is still struggling for some of the facilities. Sikh community has been demanding a shamshan ghaat in Peshawar for long, in the absence of which they have to take the bodies of their people to Attock for the last rites. This will not only bring progress to the citizens of Peshawar but also bring a positive image of Pakistan as a country with interfaith harmony.