The district of South Waziristan has always been deprived of basic facilities especially of sports-related facilities. The underprivileged region has seen years of war against terror and extra-judicial killings. But the buzz in the air of Waziristan is not always that of a mine explosion; cheering crowds still throng the makeshift stadiums that dot parts of this region. Yes, in Waziristan, they play sports too.
This guy from Waziristan is a martial arts player who holds 31 Guinness World Records
Muhammad Irfan Mehsood, who hails from long-deprived Khyber Pakhtunkhwa's district South Waziristan, is a martial arts player who recently made his 31st world record in the Guinness Book of World Records, bringing pride to his homeland.
In what appears to be a remarkable achievement for Pakistan, Irfan Mehsood, a martial arts player hails from tehsil Ladha of South Waziristan, brought laurel to the Country as he registered his 31st Guinness World Record.
Irfan broke the record of most push-ups, one leg raised with 60 pounds, in one minute by doing 48 push-ups. The previous record of 53 push-ups was held by Ron Cooper of the United States.
His new record is 60 push-ups in one minute with one leg raised and carrying a 40-lb pack which was approved by Guinness World Records.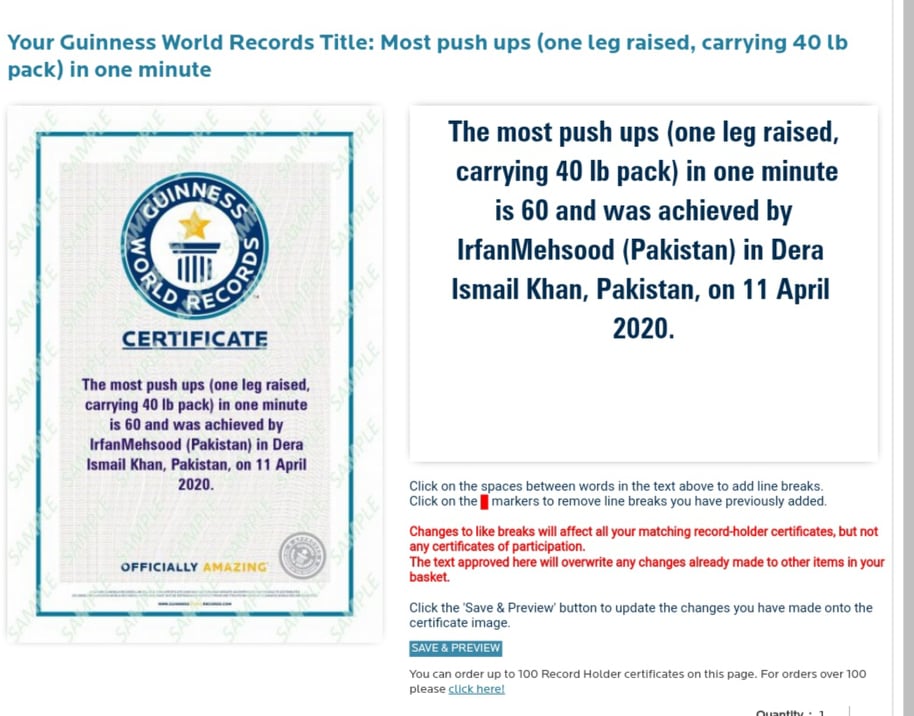 Mehsood achieved this milestone on April 11 in Dera Ismail Khan despite the lack of all sorts of required facilities. He broke the previous record of 53 push-ups that was made by an American martial arts player.
Irfan is a keen record broker who has broken several Guinness World Records
Irfan is a serial record-breaker and holds other records similar to this one such as the record for most side lunges in one minute with 54 lunges in total. The youngster has been pursuing his passion for martial arts since his teenage years and began training in 2005 "right after his matriculation".
Last month, Irfan broke four other records which included most knuckle push-ups (59) carrying 60 lb pack in one minute, most side lunges (72) in a minute, most push-ups (39) on fingertips and carrying a 60-lb pack in one minute and most push-ups (40) with one leg raised and carrying an 80-lb pack in one minute.
"Our country is full of talent and potential. By breaking records, I want to show the world that we are not behind than any other nation in sports,"
Earlier, a keen record breaker, Irfan broke the record of most side jumps in one minute with 112 jumps. The record was previously held by Indian, Jayanath Reddy, with 102 side jumps in one minute. Not just this, he has a total of 25 Guinness records to his name, including:
Most full-contact knee strikes – 87 in one minute using one leg
Most full contact knee strikes – 83 – in one minute (alternate legs)
Most push-ups (one leg raised, carrying 40-lb pack) – 31 in one minute
Most push-ups (one leg raised and carrying an 80-lb pack) – 21 in one minute
Most knuckle push-ups – 25 – (with one leg raised, carrying 40-lb pack) in one minute
Most thumb push-ups – 35 – in one minute
Most Bo staff strikes – 261 – in one minute
Irfan who is also running an academy in Waziristan by the name of 'Jackie Chan Wushu and Martial Arts Academy' said that with every record he breaks, he aims to show the softer, better image of Waziristan and Pakistan to the whole world.
Passionate for setting new records, the Pashtun serial record breaker hopes to be a trailblazer for his people
Irfan started breaking world records as a passion and hobby but he ultimately turned his passion into a purpose after his family was internally displaced due to the Waziristan operation in 2009. He moved to Dera Ismail Khan with his family among others.
Mehsood hopes to be the representative of a generation that wants to change the perception of his people and also of Pakistan.
"It is very important for me," said the current M.Phil student at Gomal University and the martial artist. "It was really hard. I have my academy now in Dera Ismail Khan, this is where most of the people from Waziristan settled after the operation."
He added: "I can say that I'm motivated because I want to show a softer, better image of Pakistan and the people of Waziristan; we are not terrorists and we want to get ahead in life since we are good at studies just as we are great at sports."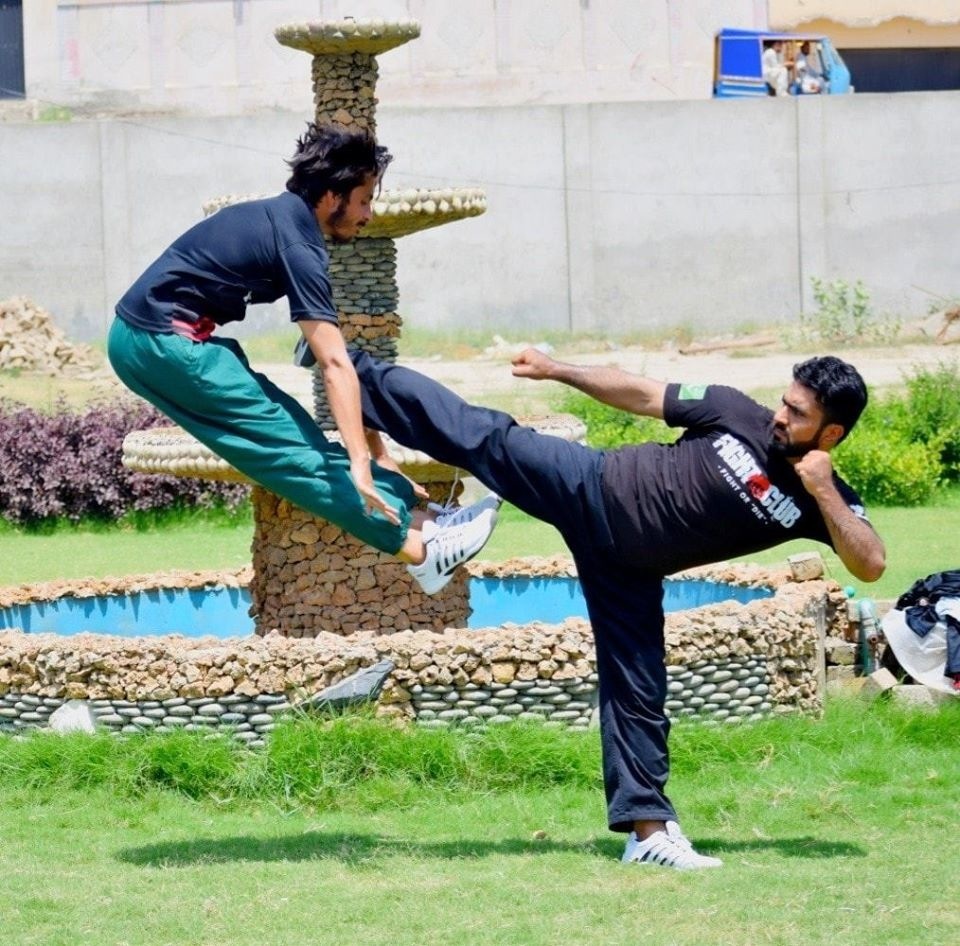 Mehsood said that the youngsters in Waziristan and even in Dera Ismail Khan are also passionate about martial arts and they want to make their name in the sport, however, lack of government's support, facilities and the general apathy of the authorities is one of the biggest challenges martial artists have to face in Pakistan.
"There is no support from the government whatsoever. But we try; I really want the youth of my region to direct themselves toward sports instead of other things. Sports can prevent the youth from going into other activities. We'll continue the hard work here," added Mehsood.
When asked about his inspiration, he named Ahmad Hussain, a veteran who also held the world record of most kicks in a minute (190) in 2011.
"I contacted Hussain [before preparing for the record], because when I was starting out, back in 2010, I saw these videos and I wanted to know more about the records," said Mehsood. "He inspired me really. I thought it was a great way of making a mark and send out a message to the world.
The people of the Country could bring more laurels to the Country if they are provided the much-needed facilities by the government.
Irfan Mehsood did the wonders with his self-dedication and love for his game and if he was supported and back by the government, he could break more records and make more achievements in the time to come.
What are your thoughts on his achievements? Let us know in the comments section.